Keynote Speaker:
Marc Chesley
Chief Technology Officer, Infusionsoft

Marc Chesley is a problem solver. He believes in helping small businesses succeed through the use of technology.
As a self-described geek, Marc is an attorney and loves to play and collect guitars. His office looks like a mix between a professional sound studio and technology play lab.
Marc not only leads product development for Infusionsoft, but also serves as a mentor and coach. His goal is to build leaders. His method is to get people uncomfortable because only at that point can you reach your potential to change yourself and the world.
Prior to Infusionsoft, he founded, grew and successfully sold a computer and networking services company. He's held executive positions for WinForce Technologies and IT Partners. As an attorney, he focused on venture capital financing, and mergers and acquisitions. Most recently Marc led the $54.4MM Series C funding transaction between Infusionsoft and Goldman Sachs, and the acquisition of GroSocial.
He often speaks at industry events, such as HMG Strategy's Arizona CIO Executive Leadership Summit, the Midwest Mobile Summit, ICON, Greater Phoenix Economic Council's Software Industry Forum and the Arizona Technology Council's Growing Technology in Arizona Symposium
He was named the 2013 Arizona CIO of The Year by the Phoenix Business Journal and Arizona Technology Council. He also was named the 2012 Arizona IT Leader of the Year by the Society of Information Management (SIM). He has a Juris Doctor from Brigham Young University and a B.A. in Philosophy from Arizona State University. He is a member of the University of Arizona Eller College of Management advisory board, and the Arizona State University, W.P. Carey School of Business, Department of Information Systems Executive Advisory Board.
See more at: http://www.marcchesley.com/about
---
Greg Baugues
Greg Baugues serves as a developer evangelist for Twilio. Though he lives in Chicago, his mom, dad, and brother live in Phoenix and they would really appreciate it if he'd visit more often. Greg and his wife, Rachel, are expecting their first child, a daughter, in November.

Twitter: @greggyb
---
Les Brown
My name is Les Brown and I am a principal consultant for Statera. I have worked on several large mobile projects to include enterprise and app store deployments. I am a Xamarin Certified Mobile Developer and was an instructor during their initial course offerings. I am also a Microsoft MSCD in web application development. I am an adjunct instructor for the University of Phoenix and wrote their iOS and Android instructional curriculum. Besides using Xamarin on a daily basis for my clients, I am the host of the Arizona Xamarin Meetup group which meets monthly.
---
Ashok Emani
Ashok is a Senior Software Engineer at Intel Corporation working on Android IA enabling efforts. He is currently working on Intel Atom-based tablets, doing Android apps performance and functionality analysis. Ashok spoke at Intel Developer Forum on Android x86 NDK usage and conducted lab sessions for porting NDK-based Android Apps to IA. His previous experience includes Virtualization/Cloud frameworks, Performance/Benchmarking, Storage IO technologies and embedded software development.
---
Donn Felker
Donn is a software entrepreneur who's interests and passion lie in solving real world problems through software. He has over 11 years of professional experience in various markets, including entertainment, health, retail, insurance, financial and real estate.
Donn is the author of the best-selling "Android Application Development for Dummies," "Android Tablet Application Development" and the "Introduction to Android Development" video series on TekPub.com. He is an Android seeding developer awardee as well as an accomplished application author with over 3.2 million installs in the Android Market. He is also a Microsoft ASP Insider, an MCTS in Web Client Development for .NET and is a certified ScrumMaster.
Donn presents (AnDevCon II and AnDevCon III) and consults on various topics ranging from architecture, development in general, agile practices and patterns and of course, mobile.
Twitter: @donnfelker
Blog: http://blog.donnfelker.com
Google Plus: http://gplus.to/donnfelker
Facebook: http://www.facebook.com/donnfelker
---
Whitney Foster
Whitney Foster is a software engineer at Intel in the Software Solutions Group working on scale enabling projects for Android applications. Prior to Intel she interned at Apple on the iOS Apps and Frameworks team and receive a BS in Computer Science and a BA in Asian Studies from Cornell University. Her interests are graphics, mobile gaming, and motorcycle riding.
---
Hari K Gottipati
Hari K Gottipati is a software professional, distinguished architect, thought leader, consultant, speaker and freelance writer who specializes in Open Systems, Java, internet scale computing/apps, architecture, big data, NoSQL, mobile, LBS and Internet Of Things.
Expert in analyzing market landscape for startup ideas and molding them into successful products with the technical/competitive advantage. Regularly writes about bleeding edge technologies and his quotes can be often found in various technology news/magazines such as Gigaom, CNN Money, WSJ, Bloomberg Businessweek etc. Well known blogger and his blogs can be found at onjava.com and xml.com. Speaks at various events on latest technologies including iBeacons, big data, NoSQL, architecture and of course Java. Worked for many mobile startups, as well as big companies including Yahoo, Travelocity, and Motorola. Passionate about technologies and spends most of his time exploring bleeding edge software technologies.
---
Adam D.H. Grant
Adam Grant is a shareholder of Alpert, Barr & Grant with over 20-years of experience. He supports the firm's litigation practice with expertise in complex business disputes, mobile app law, online and digital privacy and embezzlement issues. He has successfully litigated in both state and federal courts. During the past 12-months Adam was a presenter at the Android Developers national conferences in Boston and San Francisco and at the 2013 Phoenix Mobile Festival.
He was also a featured speaker at the 2014 Encounter Conference in Las Vegas. Adam continues as the Chief Legal Editor for App Developer Magazine writing a monthly column on mobile app law and the legal issues surrounding the Internet of Things. For more information about Adam, please visit our website at http://www.alpertbarr.com/about-us/team-profiles/adam-d-h-grant/.
Twitter: @AdamAppAtty
---
Mike Hines
Mike Hines comes to Amazon after two startups and 13 years at Microsoft, where he helped launch several v1 products. As part of his work in Education software at Microsoft, Mike addressed audiences at the British Education Technology Tradeshow (BETT), Blackboard World, and International Society for Technology in Education (ISTE, formerly NECC). At Amazon, Mike helped launch the Kindle eInk app development project before joining the Amazon Appstore for Android team as an Evangelist.
In his role at Amazon, Mike has written mobile app test criteria, judged at hackathons, and is a prolific blogger for Amazon Appstore. Mike has spoken at AnDevCon, SXSW, GDC and GDC Europe, as well as many other international conferences. Moving forward, Mike hopes to connect with mobile app developers to help them be successful with their apps and bring their feedback back to Amazon to continuously improve the developer experience.
E-mail: mihines@amazon.com
Twitter: @MikeFHines
LinkedIn: http://LinkedIn.com/in/mikehines45
Blog: http://developer.amazon.com/blog
Vanity: http://about.me/mike.hines
---
Vaidy Iyer
Founder & CEO, appsFreedom. A thought leader, Innovator and proven leader with nearly two decades of extensive technology, management, sales and operational experience across a variety of Fortune 1000 companies and start-ups. As the chief innovator at appsFreedom, his goal is to replace laptops in enterprises with Tablets / Smartphones and enable IT organizations to innovate faster than ever.
Twitter: @appsfreedom
---
Joshua Johnson
I'm bringing all of my passion for new technologies, a faster web and a more responsive web to GoDaddy so that we can change the world for small businesses. I want GoDaddy to be on the cutting edge of single page web applications. I want to use PhoneGap to deliver mobile applications with a more cohesive interface in a much smaller timeframe to get our customers what they need quickly.
I recently started my own fantasy football company called Pyrium. I released an Android and iOS mobile application and also a website that helps you improve your fantasy football skills and prepare you for draft day.
Website: http://www.firstandfive.com/about
LinkedIn: http://www.linkedin.com/in/joshuajohnson814
---
Michael Luttrell
Michael Luttrell is a developer at State Farm in Research and Development. He has researched several new technologies including Swift and attends many community meetups in the Phoenix area.
---
Chris Matthieu
Chris Matthieu has nearly 2 decades of telecom and web experience. He launched his Teleku cloud communications-as-a-service platform at EmComm in 2010 which was acquired by Voxeo shortly thereafter. Next he built an opensource Node.JS PaaS cloud service called Nodester which was acquired by AppFog 12 months later. Chris' new project is called Twelephone (http://twelephone.com). Leveraging HTML5 and WebRTC, Twelephone's mission is to become a next generation telecom company in the Web browser. In 9 short bootstrapped months, Twelephone is nearly feature parity with Skype and adding new spins on old telecom ideas such as their new Expert service which is similar to Premium Rate 900 numbers running OTT (over the top) of the Twelephone platform.
Twitter: @ChrisMatthieu
---
Joe Michels
Joe is the founder and CEO of Software Ops, a mobile software company that builds engaging app platforms for businesses.
Joe founded Software Ops in 2008, the very beginning of the mobile revolution. Today Software Ops has offices in Scottsdale with 10 employees and is growing at an annual rate of 40% over 6 years.
What Joe has learned about the app market is priceless and has given him a huge advantage in helping customers of Software Ops build engaging apps. Joe understands that one of the keys to creating a successful mobile app is understanding the business objectives and identifying the appropriate strategy up-front to achieve those objectives. Joe has built an experienced team at Software Ops focused on helping people and businesses mobile app platforms that are engaging and valuable to its end users.
Joe is a graduate of the Aji Network's Business Professional's Course and currently a member of their LEIP (Leadership, Entrepreneurship, Innovation and the accumulation of Power) program. There he learn fundamental business knowledge that has helped him grow Software Ops.
---
Anjali is a Mobile Architect and Developer with versatile experience in iOS, Android and WP7. With over a decade of experience in Software Engineering, she has been primarily focused in Mobile since the early days of iOS and Android. She has led teams and is closely involved with the success of various mobile apps.
Twitter: @anjalisa
---
Michael Palermo
Michael Palermo is Microsoft's Technical Evangelist. His current passion is writing Windows Store apps with HTML5, CSS3, JavaScript! Prior to joining Microsoft, he served as a Microsoft Regional Director, MVP, and an "insider" with Microsoft on multiple technologies. He as had the pleasure of authoring several technical books as well as several online courses with Pluralsight.

Twitter: @palermo4
More Info: aka.ms/palermo4
---
Mark J Radacz
#HusbandFatherLife-L­­ongMateGeek..
Born and raised in Poland, lived in Germany and Canada before settling in Jacksonville, Fl.
Mark's been married to his high school sweetheart, Betty, for 28 years.
X-platform mobile developer-consultant­­, 20 years hands-on experience in object oriented
software analysis, design and development + 2 years of x-platform enterprise mobile development
Co-founder of Microsoft Developers User Group Jax (MDUGJAX.com)
and North Florida Xamarin User Group (NFLXUG.com)
Twitter: @MarkRadacz
---
Rob Richardson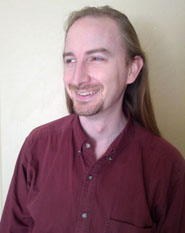 Rob Richardson is a local software craftsman building web properties in ASP.NET and Node. He's a frequent speaker at user groups and community events, and a diligent teacher and student of high quality software development. You can find this and other talks on his blog.
Blog: http://robrich.org/presentations
Twitter: @rob_rich
---
Michael J Smith
Michael J Smith is the CEO and co-founder of Raster Media. He has lead the charge for a dynamic and growing team of software developers for over 10 years. He has worked with hundreds of startups and dozens of enterprises helping them to shape their mobile businesses through technology and design.
Michael is a UX thought leader educating the business world on user experience design thinking as it relates to mobile and IoT technology.
Michael is a graduate of Silicon Valley's Cogswell Polytechnical College's School of Interactive Media.
Twitter: @RasterMike
Website: rastermedia.com
---
Chris Wagner
Chris Wagner is the lead mobile engineer at Infusionsoft where the team is writing apps to help small businesses succeed. Chris is also a RayWenderlich.com team member where he has co-authored two books and written several tutorials. With a background in systems administration and Java web apps, his primary focus has been on iOS for the past 5 years.
---
Mike Wolfson
Mike is a passionate mobile designer/developer working out of Phoenix. He has been working in the software field 20 years, and with Android since its introduction. Currently, he develops Android applications for the health care field, and is a Mobile Architect at athenahealth\Epocrates.
He has spoken about Android and mobile development at a variety of conferences and user groups (including AnDevCon, Oscon, and Phoenix Mobile Festival). Mike is an active contributor to the tech community, including organizing the local GDG, and is recognized by Google as an 'Android Developer Expert' (one of 14 in the world).When he is not geeking out about phones, he enjoys the outdoors (snowboarding, hiking, scuba diving), collecting PEZ dispensers, and chasing his young (but quick) daughter.
---